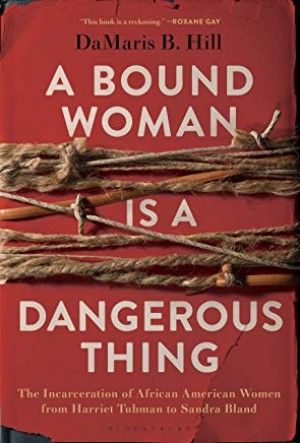 As excited as I was when I bought it, I had to struggle to read this book the color of a period napkin with rope and knots on the cover and bold white lettering, A BOUND WOMAN IS A DANGEROUS THING by DaMaris B. Hill, like I didn't already know being born into a black/brown woman-body, bleeding the moon wasn't "dangerous."  I had to make sure that I read this book at the right time when I could rightfully process it.  Roxane Gay claims ,"This book is a reckoning," so I reckoned that I needed to be mindful, danger flirting with danger and all.  I waited until spring break for privacy.
     Poet DaMaris B. Hill made me mad at the very beginning with a preface and all.  Who wants to have the poems, the book introduced?  Couldn't we just get on with it?  Didn't she trust me to read tediously with both my head and my heart?  Why not just let me experience the poems on my own?  The book was promoted as poems regarding incarcerated women.  Isn't that enough?  As much as I wanted to skip the preface, it haunted me.  After all, it was written by a poet.  I read it anyway.
     Poet DaMaris B. Hill wisely reminds the reader in her preface, that "bound" is a two-faced coin.  It is the women who wrestle relentlessly with captivity and that which would eat them alive and spit them out for mere folly.  Those faces to me were obvious.  I saw/see them every day and know them well.  That was why I had to struggle to read the book in the first place, but Poet Hill also reminds us that like she, we are "bound in a legacy of love in the midst of the ricochet in solidarity with the hurt and the wounded."  Yes, she declares this book a collection of love letters. 
     She made me question myself.  Amid all the clang and clamor regarding the "angry black woman," had I, a black woman, forgotten for a spit second (Yes, I meant a "spit second.") forgotten our invincible power to love? Had I wanted for just a spit second to loose myself of the ties that bind me to them?  Did I think it would make me less?  If I had entertained any of those things in the blink of an eye, Poet DaMaris B. Hill, sets me/the reader straight.  Before even the first poem, the reader experiences a "reckoning."
     Before I can catch my breath and entertain a moment of guilt, another "reckoning."  Poet Hill declares, "The afflicted pray for healing—just as hungry people pray for bread, but when has God ever sent bread?... God has always sent a woman."  As if a black woman needs one more revival, rescue, or war on her plate...  But Ms. Hill widens the plate and serves us an endless platter courage and resistance that empowers us instead of burdens us.  That is the fierce beauty of this book; it emboldens and reminds us of the long line of brave hearts and fearless souls from whence we come. 
     The poems take us on deeply intimate journeys with the lives of Lucille Clifton, Black Bess, Harriet Tubman, and even Eartha Kitt.  We meet women whose names we have known for decades but may have never known them like this.  We also meet women whose names we might have never known,   Annie Wilson and Gynna McMille, had it not been for this book.  The poet even documents her own "bound" on the page with the poem, "Patriot and Prisoner." She is a black woman, mother to a black son, and veteran of the United States Air Force.  This is the poem that insists that the reader pace the cell back and forth with the poet and bang fists against the bars until the bars bleed.  This is the poem that decries and declares with a fury that reclaims the fierceness of our birthright that the western world has strategically fought desperately to strip from us.  This poem reminds us that we are only as "bound" as our minds agree to be.  This poem is a transcendent love letter to self like I/you will never see coming.
     In celebration of Women's History Month and the lineage of women that birthed me into being, I celebrate this book and invite you to celebrate it with me.  Many thanks to Poet DaMaris B. Hill for her research, clarity, and courage to birth this work.  Afterall, our bellies would be bloated, our bodies and minds lethargic, our souls yet hungry if God had only sent "bread..."
As always,
Be Joyful,
Be Creative,
Be Inspired,
Tamara
P.S.  Click the image above or here To order the book.  To find more about the poet DaMaris B. Hill, click here.  Thanks for supporting women, literature, poetry, and LIFE!