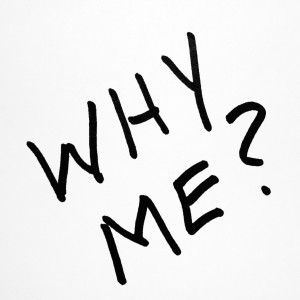 "I keep asking, why me?" 
That was his next question after asking me if I went to church, believed in God or could possibly understand the whirlwind of madness that was rocking his world most recently.  The death of his beloved stepmother, her funeral on his birthday, and the first day of his college experience all happened within a tumultuous two-week period.  A couple of weeks later he would lose one of his "boys" to a fatal motorcycle accident. He was searching for answers and asking me for suggestions.
It was one of those moment when I had to reach.  I had asked the same question numerous times in my own life.  The fact that I am a parent, instructor, mentor with more than 30 years of experience on him made no difference.  When we are struggling to understand the madness or pain of our lives, it's easy to ask, "Why me?"
I listened, took deep breaths and waited for an answer, something that might assist this young man who was trying his best to be positive and stay focused in his personal and academic life.  He trusted me. I was honored and knew that this needed to be handled carefully.
Sometimes the answers arrive from some blessed place that we can hardly fathom.  Those answers are often for us as well as for those with whom we are interacting.  The words that fell from my lips were for me as much as they were for him:
"Sometimes it is not the most productive thing to ask WHY.  Sometime it is much more helpful for us to ask HOW?" I replied. 
I later explained to him that the intricacies of life can be so intense that the answers to WHY might further confound us or do nothing at all to lessen the pain, intensity, anger or frustration of the situation.  When we lose a loved one to a violent crime or sudden illness or accident, we most often find that the answers to who did it and why do not soothe and comfort us as much as we thought.  Even "justice" does not end the frustration or create the peace that we really desire.
Asking the Source of our strength HOW to navigate the matrix of pain, guilt, anger, frustration, resentment, death, sickness, etc. is the key to receiving the answers that help us make our way through the condition as peacefully and productively as possible.  Little did I know that those words would be as vital to me as they were to my student that day. 
I have been carrying that tidbit of wisdom as a precious pearl ever since. As a matter of fact, today is one of those days when WHY won't do me a bit of good. Today I choose to be quiet and open to the matter and magic of HOW.  The answers are slowly but surely arriving one step at a time, and I am grateful.
How about you?
As always,
Be Joyful,
Be Creative,
Be Inspired,
Tamara
P.S.  Many blessings and thanks to Gary for the inspiration for this post!